Beautiful Red Wedding Dresses
Be Different, Stand Out at Your Wedding
Everyone chooses to get married in a white gown, or so it seems, if you visit the many bridal boutiques. Many of the white wedding gowns are simply lovely, but if you are looking to make a splash at your wedding, why not consider choosing a wedding dress with some colour? Gwen Stefani got married in an Armani dress that was white with a sweet pinkish (almost a light mauve)border (see the picture) - that was certainly a different look that will stick in the mind.
Red tones are a lovely choice for complementing with a white wedding gown.
But for those of us who are more daring, there are also totally red wedding dresses that would be perfect. It takes a certain type of attitude - you need to be sassy, chic, confident - to carry off a red wedding dress.
In the Singaporean traditional culture, red is also looked upon favourably by the Chinese, Indian and Malay communities. Many traditional ethnic wedding costumes are red in colour, so it would not be culturally inappropriate for you to pick a Western styled wedding gown that is also red.
What fun it is to be different!
I've picked out several wedding dress designs with red tones, and those that are fully red. Hope you are inspired by them :)
White Wedding Dresses With Red Tones
I've seen many white wedding dresses with the striking colour emanating from the back of the gown (like in the first picture, see above). But this one has the colour emanating from the front, with red coloured embroidery on the bodice, which I thought was rather unique.
Sometimes, you want to make a subtle impression. You would do this by adding a coloured (red) sash to your white wedding gown, as shown above.
Beautiful Red Wedding Dresses
A stylish red wedding dress, paired with a white veil.
Source:RedHotBrides.Com


This one is really great - a red wedding dress, with a white lace skirt peeping out from the red.
Source:RedHotBrides.Com


Indian-inspired red wedding lengha
(blouse and skirt outfit) with gold embroidery.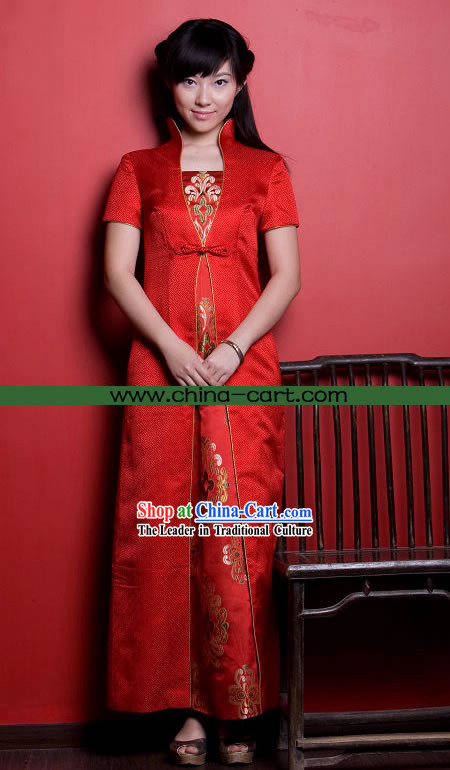 Chinese inspired red wedding dress with gold
floral embroidery in the inner sheath dress piece.

Labels: Wedding Dress, Wedding Fashion, Wedding Gown