Nyonya Kebaya - Peranakan Bridal Wear Ideas
Peranakan Bridal Wear Ideas
Recently, the popularity of the Chinese tv serial in Singapore, Little Nyonya, has brought the Peranakan culture into high focus. Everyone is abuzz about the little known culture - the Nyonyas and the Babas. Apparently, the Peranakan Musuem is also getting a lot of visitors who are interested in exploring the culture. I also noticed an increase in the number of people I know describing themselves as Peranakan when before they were just Chinese! All of this brings out an interesting dimension to our varied culture.
A recent Straits Times report publicised a family of women who all decided to dress in the traditional Nyonya Kebaya for Chinese New Year. I wonder if this trend will go into the wedding scene.
I certainly think that the Nyonya Kebaya is an elegant ethnic dress that exudes feminity, suitable for an engagement or wedding reception event.
So this blog today pays tribute to the colourful Nyonya Kebaya - in the hopes that it inspires Singaporean brides :)
Little Known Facts About the Peranakan Culture:
According to the Peranakan Musuem in Singapore, traders from lands far away settled on Southeast Asian lands and married the local women (the Malays). The descendants are the ancestors of the Peranakans.
In the Malay-speaking parts of Southeast Asia, the term Peranakan means "child of" or "born of" and is used to refer to people of mixed ethnic origins. While the focus of the recent buzz is on the Peranakan Chinese community who form the largest number of Peranakans in Southeast Asia, there are other communities of Peranakans such as the Jawi Peranakan (Indian Muslim) and the Chitty Melaka (Indian).
Nyonya Kebaya Designs Suitable for An Engagment or Wedding Event

The top is usually made of sheer cotton, silk or organza material with elaborate and intricate designs at the borders. The top is paired with a batik sarong.


Close Up of the Edge of a Kebaya Blouse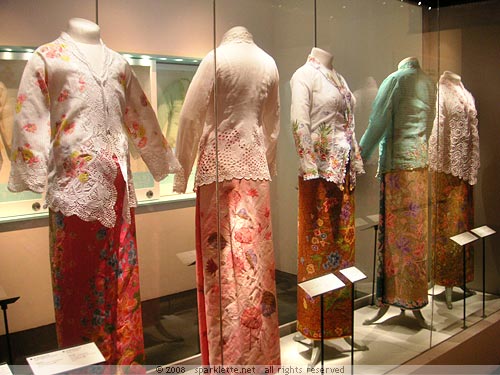 Labels: Wedding Dress, Wedding Fashion, Wedding Gown